Saturday 28th October 2017
As existing clients will know, I am a great fan of scent work as a fun activity with our dogs.  It can be done by ANY breed of dog, although there are obvious star performers of certain breeds who have been bred specifically to enhance this skill.
I invited Liesl DelaFontaine from Talking Dogs to give us an introduction to this activity, and the event was fully booked within a few days – clearly popular !
We had a super mixed group of dogs attending, some of whom weren't comfortable around other dogs, and this was no problem at all, Liesl just emptied the room of dogs and/or people as required !  This was brilliant, as many of the dogs I work with are scared around dogs and/or people, and scent work is a really good activity to carry out on days when you can't walk them, as it really helps to settle the cortisol they produce when they react.
The day began with an introduction to scent work, and what a working detection dog would be doing and how this is trained.  Then Liesl met all the dogs one by one, and decided whether they would most likely be motivated to find a toy or cheese !
Each dog worked by themself, and Liesl worked really hard to encourage their guardians to work with their dog – this is something else that I love about the activity, you and your dog search TOGETHER.  It's a great activity to increase the bond between you and your dog, and this in turn creates more trust.  It's about having fun together and a great activity for nasty winter weather !
After lunch, Liesl set up some slightly more challenging searches (bearing in mind all the dogs were complete novices, as were their humans !!) and the dogs had a great time finding cheese or scented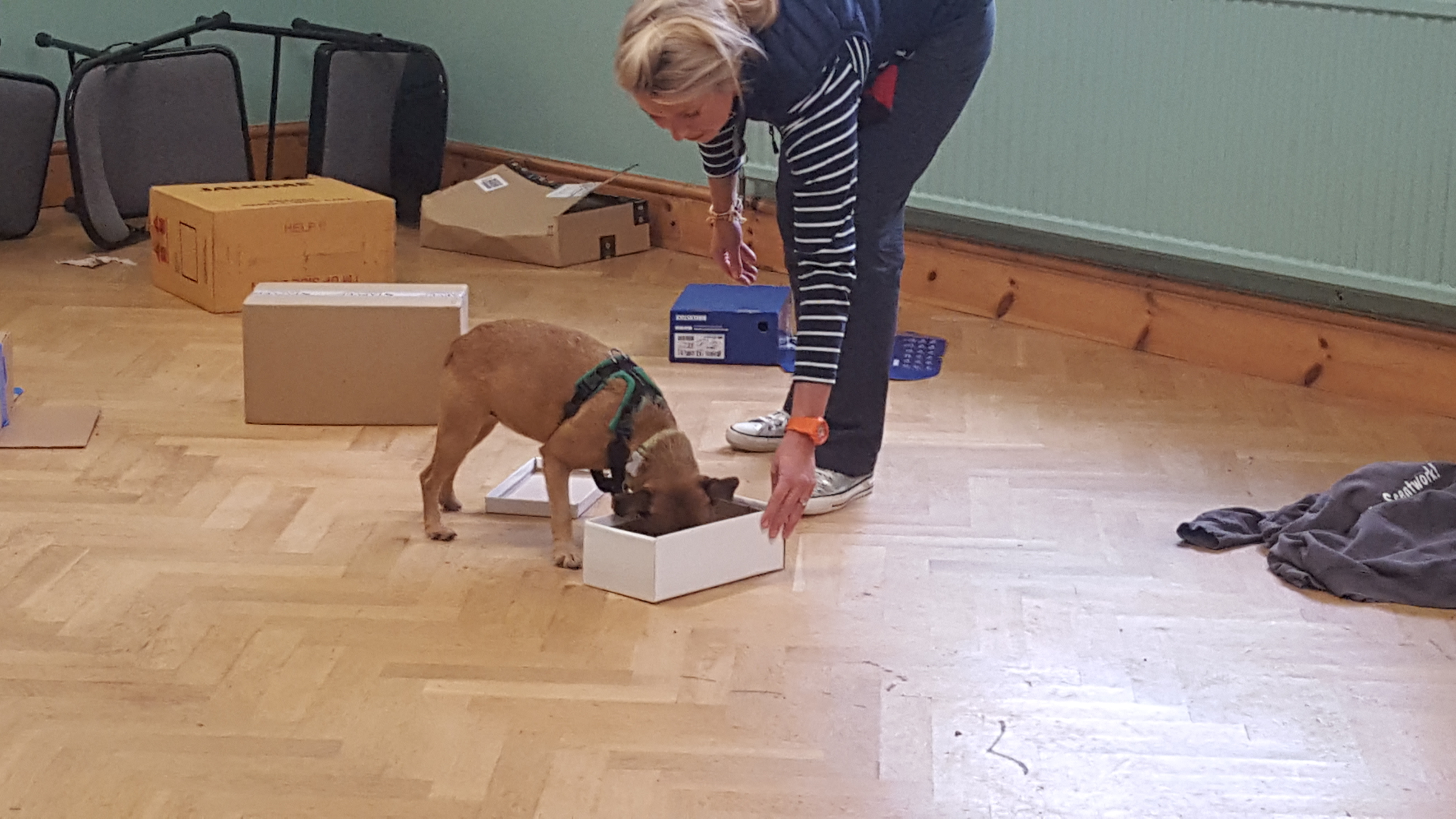 mice in cardboard boxes.  I found it fascinating to watch all the different approaches, every dog had his or her own searching style.
The day was a great success, and we are holding a second introductory day on Saturday 3rd March followed by a Level 2 day on Sunday 4th March 2018. The link to book will be on the website very soon.