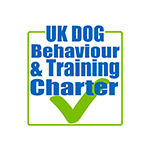 Fel aelod achrededig llawn o Gymdeithas INTODogs (www.intodogs.org) rwy'n gallu arddangos y symbol hwn.
Edrychwch ar wefan y siarter i weld pa sicrwydd y mae'r symbol hwn yn ei gynnig www.ukdogcharter.org
As a full accredited member of The Association of INTODogs (www.intodogs.org) I am able to display this symbol.
Please check out the charter website to see what assurances this symbol brings www.ukdogcharter.org
Rydym hefyd yn falch o fod yn aelodau o'r canlynol ac yn falch o allu cydweithio gyda hwy:
We are also proud to be members of and work with the following:


WE'RE CURRENTLY IN THE PROCESS OF TRANSLATING OUR WEBSITE TO BE AVAILABLE IN WELSH & ENGLISH.
PLEASE BEAR WITH US WHILST WE WORK THROUGH THE SITE.