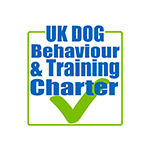 As a full accredited member of The Association of INTODogs (www.intodogs.org) I am able to display this symbol.
Please check out the charter website to see what assurances this symbol brings www.ukdogcharter.org
We are also proud to be members of and work with the following:


WE'RE CURRENTLY IN THE PROCESS OF TRANSLATING OUR WEBSITE TO BE AVAILABLE IN WELSH & ENGLISH.
PLEASE BEAR WITH US WHILST WE WORK THROUGH THE SITE.