Good news!! We are delighted to confirm that we are looking for a permanent home for Ralph. Must be in the Gloucestershire area so that Morag can continue her work with him. Please visit the Bedlington Terrier Rescue website HERE and complete a home enquiry form to register your interest.
Meanwhile, here's Ralph's latest blog…
Today has been a very funny day!
All day long, there have been really horrible noises, and EVERYTHING is flapping and scary. I didn't even want to go out in the garden, it was very very frightening.
I did manage to go just outside my room on the path to have a wee and a poo, but I didn't like it AT ALL.
The really really good thing is that there is no electricity today! So my fosterer lady has not done ANY WORK but we have done lots of things together.
I have played with my squeaky toy, and with a funny food toy. That made me a bit cross, because I thought I had to chew it to get the food, but it turned out that all I had to do was roll it about!!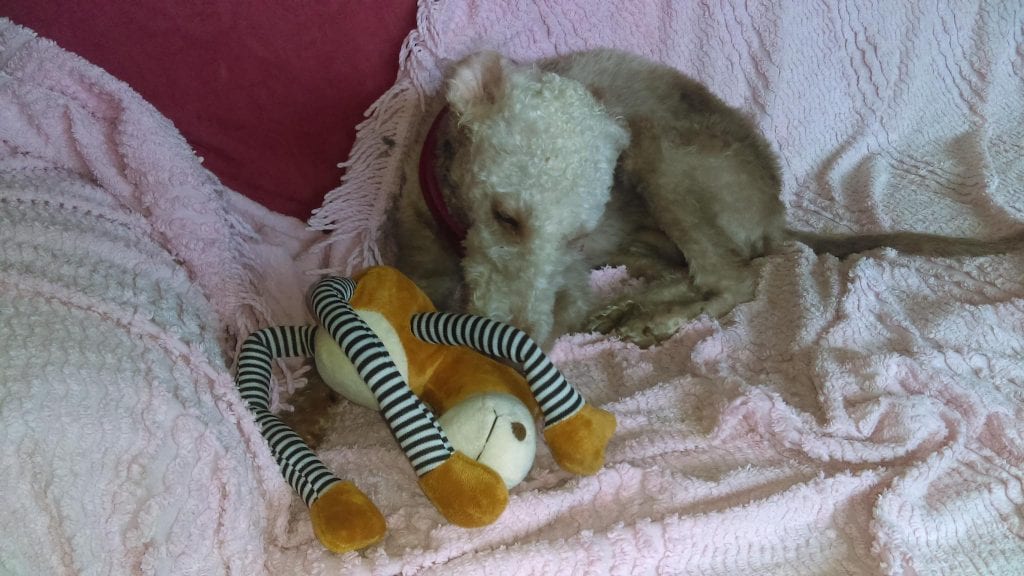 Today I learned that playing is very good fun, but only if you hold the toy, not the human. That seems to be a very important lesson. Apparently, I have "good bite inhibition" when I catch human hands by mistake. I THINK that's a good thing.
We played vets (she was a bit too good at that, it was a bit too real for comfort!!) and I licked her and cuddled her lots and lots.
We listened to some stories and I slept on her lap, then she said she needed to see the other dogs, so I went back in my bedroom. Somehow, it's got less tall, and more cosy, I'm not sure how that happened, but I like it lots. The fosterer lady says she's very pleased, because it will be like a caravan, I can take it with me to my new family.
I did get in a bit of trouble today, too. I wanted to see the flapping hedges and everything, so I jumped up on the windowsill. She really wasn't very impressed by my jumping and balancing, better not do that again!!
I was allowed to watch the humans eat today, and I am very very good at this. I so wanted some of their food, it smelled nearly as nice as my Cotswold Raw (www.cotswoldraw.com) dinners, but I seem to think that it's best just to look cute when humans are eating.
I've had a big sleep on the sofa now, and it's a bit quieter outside so I'm going to sniff in the garden for a while.
More news tomorrow!!
Woof Woof !!