Well, today has been a very different day again, I don't know where my head is !!
It all started fine, I went out in the garden, and the clicks and the delicious tube came lots and lots. Then the fosterer lady said that I was doing very well, and we were going to go for a little walk. MY GOODNESS it was hard to concentrate!!
I had to go out of a gate very carefully (because there is a nasty bend, she said, and the cars couldn't see me). That was ok, because I just ate some cheese until she said we could go. Then we got to the other side and there's this corner, well, the SMELLS!! I had to spend ages and ages and ages sniffing, because there were so many dog-smells, and I wanted to know about them all!!
It was ok, 'though, because the fosterer lady just let me sniff, she didn't mind at all!! When I'd finished, well, then I noticed all sorts of things!! There were birds, and cars, and two people and a bicycle and, oh, my, I just had to try to see them all. But we just stood quietly and looked, and when I looked at the fosterer lady, she clicked and gave me the lovely tube. It was a different one today, with tasty meaty stuff in it, that was a surprise.
Then we went back, and I had a long sleep.
Then we went again, and this time, at the gate, I met a red man in shorts with some paper things, THAT was a surprise as well !! He was really nice and gave me a biscuit, and said lots of lovely things about me. He is going to tell people about me because he said he wants me to find my own real family. I'm very lucky that so many people are helping me to find my very own humans, I can't wait! School is ok, but I know it's going to change soon, so I'd like to feel more settled, please.
I have been sleeping lots today, because it has been very tiring going for my little walks ( the fosterer lady says they are nano-sniffs, and tomorrow, we can do a micro -sniff, I wonder if that's bigger?) I went to look at her car, too, but I didn't want to get in it, because I thought I might be going somewhere else, so she let me just sniff it. It smells the same as the garden, must be the house-dogs, I think. I'm looking forward to actually seeing them soon!
Here's a picture of me dressed for going out, I borrowed a Yellow Dog vest, and (don't tell anybody!) I wee'd on it by mistake, it doesn't fit me very well, so it wasn't my fault really ! It's a bit of a wonky picture, but you can see what I have been wearing !!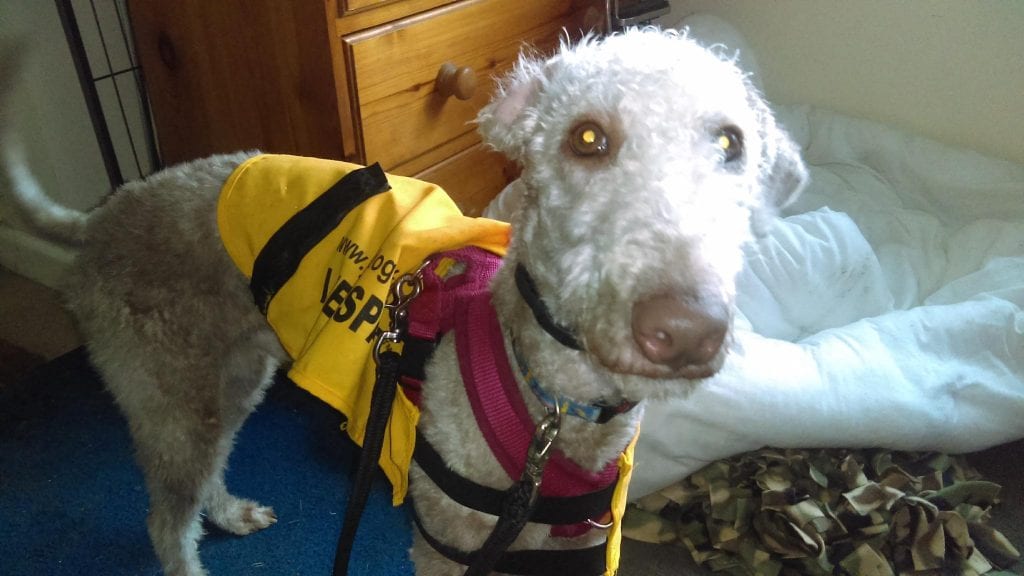 Love and licks,
Ralph x x